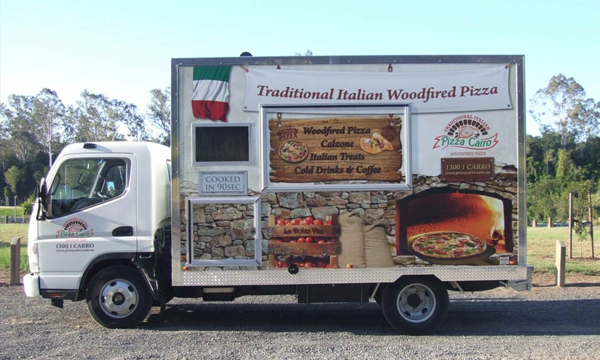 Check out this cool woodfired pizza truck that's just rolled out of our workshop and now hitting the streets of Ipswich. Barry and Bronwyn brought to us a Mitsubishi Fuso light truck and we've turned it into a gourmet pizza kitchen on wheels.
With their pizza oven capable of cooking 4 pizzas in 90 seconds, these guys have certainly got all the ingredients for a successful food truck.
Serving traditional Italian woodfired pizza from their pizza truck via their Italian made stainless steel Alfa pizza oven, Barry and Bronwyn will be catering to corporate events, private parties, festivals and markets throughout south east Queensland. Featuring an inbuilt flatscreen TV to display menu choices, overhead and underbench cupboards for storage, stainless steel benchtops and splashbacks, and on board generator, fresh and waste water tanks plus all the other usual Van Demons food truck trimmings.
According to Barry & Bronwyn, the council inspector that certified the truck said it was the best quality food truck that she had ever seen. Not that we are boasting!
Talk to the team at Van Demons about getting yourself a gourmet custom built food truck and join the food van revolution today!
Check out their Facebook page for their upcoming locations.