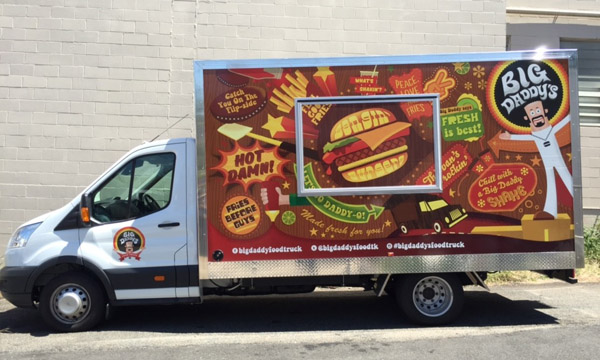 Bernie (a.k.a. Big Papa) shopped around Sydney only to find that the local food truck manufacturers' quotations were not only priced well above his budget but were going to take in the vicinity of 6 months to build. Within only a couple of days of his phone call to the Van Demons Team, he was on his way driving his new Ford Transit ute to Brisbane for us to convert it into a gourmet burger truck.
Big Papa is now roaming the streets of Sydney serving up gourmet burger and sub sensations such as "The Spaniard" burger made with mixed beef and chorizo mince, montego cheese, tomato chutney, rocket, prosciutto and lime aoli. Woah Bernie, you're making us hungry! Or how about this dessert for a bit of "out there" creativity – coconut burger made with a pineapple flavoured donut, coconut gelato and homemade apple cinnamon? Wow! And what about the milkshakes – a pavlova shake with passionfruit and strawberry, or how about a chocolate peanut butter shake! Seriously! Judging by the huge Facebook following (more than 4,000 fans in only 6 weeks!), Big Papa is certainly taking the Sydney food truck scene by storm.
The Big Papa Food Truck passed Sydney City Council's inspection with flying colours, proving that even though we are based in Brisbane, Van Demons Vans can build any food truck to any council's requirements.
The Big Papa food truck body is 4.1 m in length – big enough to accommodate all the commercial refrigeration and cooking equipment required to pump out a couple of hundred burgers and milkshakes per day.
All the best for a hugely successful future Bernie. We really enjoyed helping turn your food truck dream into a reality and it's so awesome to see you doing so well.
Graeme and the team were extremely professional, our Truck passed every inspection and although the timing was a little out due to the holidays, was still faster then every other quote that I had received. The difference is that they actually care about the Food Truck they provide you. So thank you!

Bernie a.k.a. Big Papa
Check out their Facebook page: