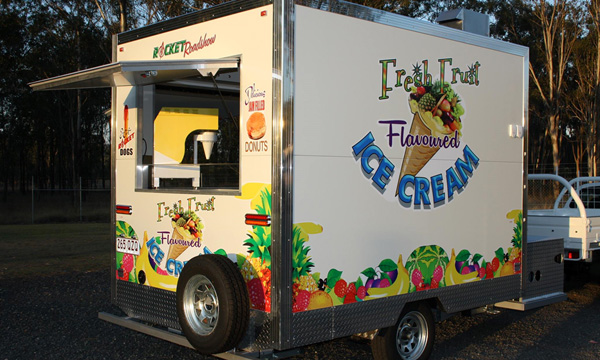 Roll up, roll up. Rocket Roadshow is in town! In the little town of Wondai that is, about 250km north west of Brisbane. Serving up old fashioned treats in the form of fresh fruit flavoured icecream, jam donuts, dagwood dogs and milkshakes from their 3m x 2.2m food trailer, Russell and Dianne are loving their new food van lifestyle.
The Rocket Roadshow food trailer is fitted out with stainless steel benchtops and splashbacks, commercial grade non-slip flooring, below bench and overhead storage cupboards, fresh and waste water tanks, instant hot water system, commercial rangehood, deep fryer, icecream maker and lots of refrigeration all powered by an on board generator.
We're sure that the Roberts will put some big smiles on many little country kids faces for a long time to come. And we're sure that the big kids won't mind a little reminiscing of these special childhood delights either!
If you live in that part of the world, you might like to follow the Rocket Roadshow facebook page for their upcoming locations.
Check out their Facebook page for their upcoming locations.