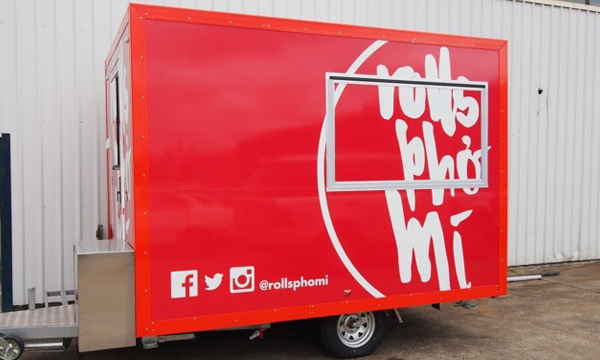 Having recently rolled out of the Van Demon's workshop, this fiery red 3m custom built food trailer is now serving up wonderfully vibrant Vietnamese street food. Duy and his lovely wife Steph are two beautiful, smiley people who are proud of their Vietnamese heritage and wanted to share some of its culinary delights with the people of south east Queensland. Roll up, Rolls Pho Mi!
Serving fresh and fragrant Vietnamese food to hungry hordes at markets, festivals, private functions and other pop-up events, Duy & Steph are loving their new food truck lifestyle. Duy has given up his career in banking to follow his and Steph's food truck dream recreating Duy's Mum's special recipes.
The Van Demons team paid a visit to Rolls Pho Mi at a recent event and are pleased to say that their beef pho is as good as any we've had – and we've had a few – our workshop is located close to Sunnybank, full of Asian restaurants. The Van Demons crew can be regularly seen chowing down a pho for lunch!
Duy & Steph's success is proof that you don't need to be a trained chef to own a successful food van. A passion for food and an entrepreneurial spirit goes a long way to producing a successful food truck business, just as these guys have created.
Steph and Duy were so pleased and excited upon delivery of their trailer, Steph presented the Van Demons crew some "Thank You" cupcakes. What a lovely gesture.
Fully covered in a firey red vinyl wrap with a red powder coated aluminium trim, Rolls Pho Mi and their amazing food are set to be a stand out at any function.
Check out their Facebook page for some photos of their wonderful menu items, oh and if you are so lucky to run into them, ask Steph to make you one of those secret "off the menu" donuts filled with ice cream and injected with salted caramel to finish off your meal. Yum.