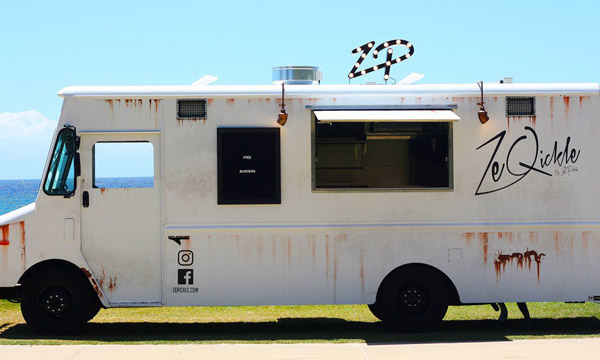 Hip burger restaurant & bar Ze Pickle in Brisbane's Fortitude Valley has been a popular haunt for the Van Demons crew for some time now. Their wicked burger creations are the ultimate diet crushers, probably why we love 'em. With 3 restaurants already spanning Brisbane, the Gold Coast and Sydney, the Ze Pickle boys decided that a food truck would be the next step in expanding their burger empire.
The guys behind Ze Pickle – Aaron, Nathan & JD, imported a Chevy P30 1984 step van from the U.S that they picked up at a police auction. Apparently it was a fake Fed Ex truck that was being used to transport drugs, seized by the LA Police and sold at auction! Once it arrived in Oz, the Ze Pickle boys brought it to the Van Demons team to transform the Chevy into a roaming burger truck, signalling the beginning of the Ze Qickle outlet.
These chevy step vans make for the perfect food truck, and are hugely popular with the food truck scene in the US. With a 4.6m long x 2.1m wide x 2.1m high body, they allow ample space for a full commercial kitchen. Australian regulations state that any vehicles imported from the U.S. can remain left hand drive as long as they are at least 30 years old, as is the case with the Ze Qickle truck.
Fully equipped with a thumping sound system, a shmick commercial kitchen that the guys reckon is bigger than one of their shop's kitchen, and a full vinyl "rust look" wrap, the Ze Qickle food truck means business.
Check out all the press that it's received since its free burger launch at Burleigh Heads last Sunday where the Ze Qickle food truck pumped out more than 500 burgers in only 1.5 hours!