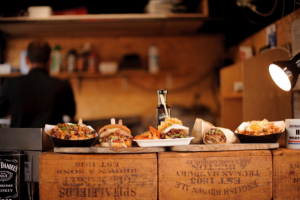 Buying a food truck is a great idea if you have a passion for selling amazing food and working from a kitchen on wheels. It provides a dynamic lifestyle, great financial prospects and endless travel opportunities. But did you know that many first-time food truck owners fall victim to some common, yet easily avoided mistakes? We've done the work for you and identified these pitfalls to ensure that you thrive in your newfound business pursuit. 
Getting off on the Wrong Foot
Many food truck owners make the mistake of choosing the wrong food van for their business. This can come down to buying a cheap, nasty vehicle from overseas, suffering due to unreliable parts and dealing with the cost of a lengthy downtime that come from not being able to work. It's also vital to have a kitchen that is specifically designed to meet your needs, and this is something that is often overlooked. A specific layout can be the difference between success and failure, so it's worth investing in a quality manufacturer who will spend the time getting a job done properly. Remember that people eat with their eyes, and a good-looking van will help you stand out from the crowd too. 
Failing to Plan
It's been said a million times, but failure to plan is planning to fail. When it comes to the food truck industry, that couldn't be truer. Before getting started, identify a point of difference for your business and consolidate a plan of action. Think about how you want to position yourself within the market and identify what needs to be done in order to achieve this. Another common mistake for vendors is choosing the wrong type of events. Research the location, customer demographic, peak times and access points for your food truck. You'll also need to be switched on when it comes to food budgeting. Countless food truck owners make the mistake of buying too much food that ends up in the garbage. Some don't buy enough and up selling out and being forced to turn back disgruntled customers. It's not a good way to impress event organisers. 
Not Sticking It Out   
Don't underestimate the importance of following through and dealing with the hardship of starting any new job. A common mistake is to give up after only 6 months of operating. In reality, it takes up to a year for most people to get up and running. Many inexperienced owners also fail to allocate enough funds for event fees. This can be disastrous, especially if it means missing out on that next carnival or concert. Similarly, it's important to invest in your business by purchasing quality produce, not cutting corners on staff and ensuring that you have top of the line equipment. Finally, don't make the mistake of sitting back and waiting for business to come to you, get proactive through networking, marketing and using social media to build brand awareness.  
These commonly made mistakes can be costly for your back pocket, but with some time and planning they can easily be avoided. Food trucking is a fantastic career path and one that provides endless opportunities. For further advice and guidance, feel free to contact Van Demons today.