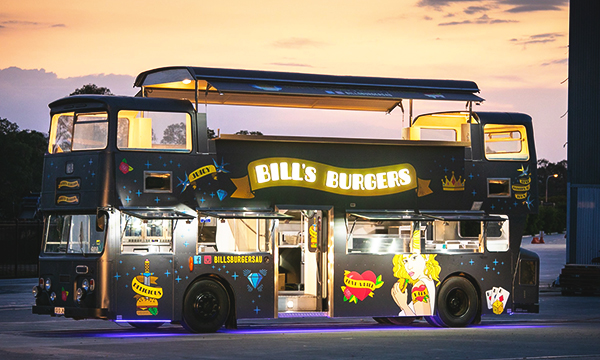 May we introduce you to the Bill's Burgers Bus. She's a 1969 Leyland Atlantean Double Decker Bus, formerly operating in her previous life as a passenger bus in London, and now rebirthed as Australia's first double decker burger bus.
The Van Demons crew stripped the bus of all its original seating and interior and have transformed her into an incredibly mighty, some say "epic" food truck. Downstairs features a full commercial kitchen on one end, with service counter and additional refrigeration up the other. Upstairs houses vibrant diner style seating with booths up each end and stools along each side of the bus, and a hydraulically operated roof that raises when in use and retracts for driving and storage. Pressed metal ceilings, bunker lights and dark timber flooring are a nod to times of yore.
With a thumping sound system (speakers upstairs, downstairs and outside), and LED colour changing lights underneath the bus, the Bill's Burgers Bus is sure to be the life of the party.
Follow their journey here: