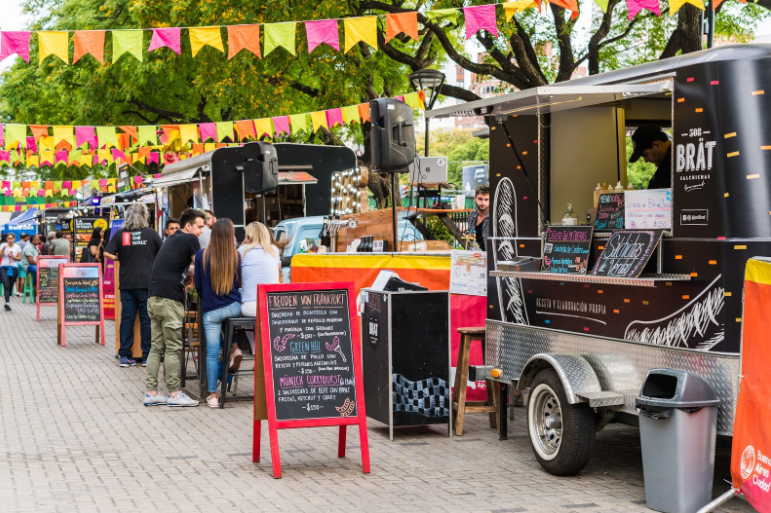 Food truck roll call!
Tasty recipes? Check!
Food truck design and concept? Check!
A full heart bursting with passion and childlike wonder? Check!
Money to finance the whole thing? Oh…
While you may have plenty of gusto and hustle ready to accompany your food truck dream, getting the right type of financing is what's really going to get the "wheel" rolling and keep it that way.
When purchasing your new food van, be sure to keep enough funds aside to get your new business up and running.  You will need money to buy stock and packaging as well as to pay for branding, websites and marketing material. You will also be required to pay for any event fees in advance, as well as funding the first few months while your new business is still gaining traction. 
If you've got everything else down pat but just need some funds  to take things to the next level, here are some financing options that may work for you.
1. Approach the big banks:
The most conventional means of getting a loan is via the big banks; perhaps even try getting a business loan through the bank you're already with, like ANZ, NAB or Commonwealth. While they have a lot of spending power and are more than capable of financing your food truck, they tend to be more cautious of unusual business ideas and stick to commonplace mortgages and loans for bricks and mortar style businesses.  The big banks generally make you jump through a lot of hoops, asking for detailed business plans and your banking history to be perfect – and can take literally months to make a decision.
Worse yet, if you've been with a bank for a while and have a bad credit history, (sometimes even one missed repayment will do it), the chances of getting a hefty loan are even slimmer. However, if you already have a home loan with a great record, a second loan for your food truck may be available…
2. Home equity loans/2nd mortgage:
A home equity loan or a 2nd mortgage may be an option for you to obtain finances. By leveraging off the equity of your existing home, you may be eligible for a loan to start your business. Alternatively, you may be eligible to a second mortgage just because you've been a stellar mortgagor with your first loan and show great promise. If you're keen to go with a big bank, make sure you get as much help from a financial advisor regarding the best options for you.
3. Boutique lenders:
A great option to consider is a boutique lender. These financiers are often much more flexible, quick to make decisions and keen to give new prospects a shot at making their dreams a reality.  The drawback is that, these lenders tend to charge higher interest, so you'll need to ensure that you're willing and capable to accommodate. If you can keep up with repayments, this may be a great option for you, especially if it seems like the traditional money lenders are wary to finance your unique idea. Boutique lenders include Betterquip, new faces like Moneyplace as well as the classic, Aussie Loans, who even offer loans specific to food trucks. Find out more about their quotes here.
4. Crowdsourcing:
If you manage to achieve considerable financing from crowdsourcing, hats off to you! It's definitely achievable but certainly no easy feat. Crowdsourcing is changing the way businesses work, providing opportunities to underdogs and taking the monopoly away from big banks and placing it in the hands of the people. If you can inspire just enough people to support your food truck you could have all your payment issues sorted and gain public support that could skyrocket your brand. The key is in tailoring a great proposal that speaks to your target audience. If all goes well, remember to treat these investors as key stakeholders, retaining their support in the future. Popular crowdsourcing sites include Kickstarter, Gofundme and IndieGogo.
Owning your own food van is a step towards your financial freedom.  However, while the above suggestions are great ways to finance your food truck ambitions, be sure that you consider every possible option available to you to determine which suits your circumstances best.
These are just suggestions, and Van Demons are in no way financial experts so do make sure to approach the relevant authorities for advice before making a decision.
For more tips on making your food truck dream a reality, contact us today!