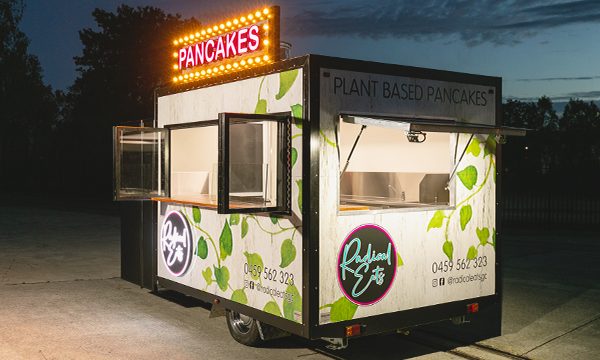 This new little food van that we recently built for Sarah of Radical Eats sure packs a mean punch.
You may remember Sarah's former food truck, Beetnik, which previously cruised the streets of the Gold Coast serving up Asian inspired vegan food. Sarah is now serving up delectable vegan pancakes from her brand new, gorgeously eye-catching 3m food trailer.
With full concertina windows that open the width of the van to reveal a lovely timber benchtop service area, a full, yet compact commercial kitchen and an illuminated roof top sign that shouts "over here!" to the crowd, we think Sarah is going to love her latest mobile venture.
Who would have thought a simple 3m box food trailer could look so good? Call the Van Demons crew today on 1300 886 773 if you are looking for a new mobile business that will help you stand out from the crowd.
Follow their journey here: