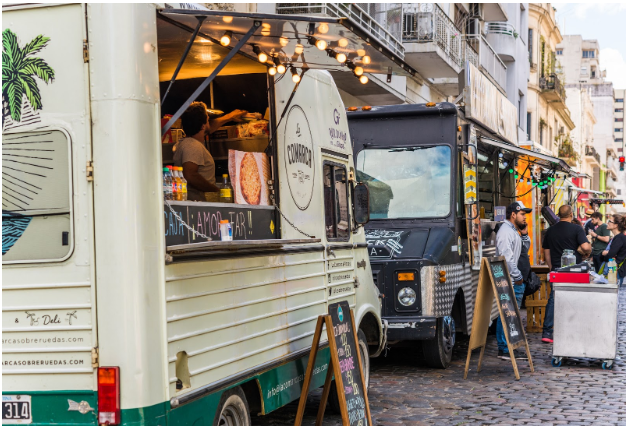 An irreplaceable fixture of Australia's incredible foodie scene, your favourite gelato wielding, beef patty providing food trucks have been transforming takeaways for the last few years and serving up street food goodness.
As customers, it seems like catching our favourite meals on wheels at various locations is just a wonderful coincidence – in fact, it's anything but!
Picking locations and targeting the right type of events to suit your food truck's cuisine can be tricky, but it's something you'll need to think about when you consider where to deliver your next espresso-on-the-go or picture-perfect pizza.
 So, if you've finally turned your foodie fantasies into a reality, complete with the custom-built food truck, a high-quality commercial kitchen, head-turning branding and the most delicious travelling tacos that Australia has ever tasted, you're on to a winning concept.
A winning concept that needs to be seen and smelt (fresh donuts, anyone?). Here's how to hit the sweet spot with these locations that are simply perfect for operating your dessert driving food truck.   
Festival & Outdoor Events
With hundreds of festivals taking place all over the country, there's little wonder that almost 50% of Australians attended a festival in 2018. From music festivals to cultural festivals, why not introduce your food truck to local and nationwide events and become one of the starring acts? With so many stomachs to feed, it's a location that promises queues of revellers just waiting for a taste.
Be sure to find out how many attendees are expected, as well as how many other traders will be in attendance at the event and where your pitch will be located. If you're in a hidden spot, you could end up watching people walk straight past your truck with a burger already in hand and that's certainly not what you want.  Position, position, position!
Private Events, Parties & Weddings
One of the best things about being booked out for private events such as weddings, engagements and birthdays, is being able to charge a fixed fee.  Private events make it easier for you to plan ahead as you'll know exactly how many guests will be there. From supplies and staffing needs to keeping your wastage down to the bare minimum, this is the perfect place to pop up your quirky little food truck.
Corporate Courtyards & Roadside Catering
According to global food trends agency 'The Food People', a huge 2.5 billion people worldwide currently consume street food each day. That's a lot of people, right? With busy commuters, construction workers and corporates not having the time to have breakfast or bring in their own lunch, it makes sense to target office courtyards, busy roadsides and more. You can even offer corporate businesses special menus and discounts and deliver to them.  In-house corporate catering is just one of the many options available to you when you have your own mobile kitchen.
Last but not least…
Before you set off, if you are planning on trading on public land, be sure to get a permit approval from your local Council for your chosen location. This is to make sure that your food truck actually contributes to the aesthetics and design standards of public places, while ensuring you don't compete too heavily with nearby cafes and restaurants. From sustainability to branding and ethical outlook, these factors will all be considered when you apply for permits.
Note that rules and regulations differ from state to state across the country. This is something only the best food truck manufacturers can help guide you upon, no matter where you live in Australia.
If you're thinking of expanding your business or starting a whole new venture today, simply get in touch with the friendly team at Van Demons Vans on 1300 886 773 or email us at info@vandemonsvans.com.au to find out more about building and fitting out your new food truck.