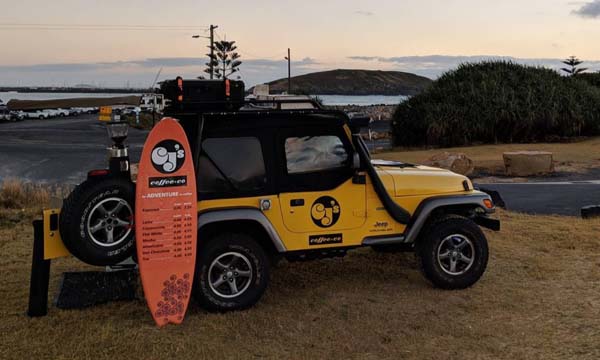 A coffee jeep? Why the heck not? If anyone can make it happen, the Van Demons crew can. Pommy Chris is constantly having to pinch himself – selling coffee in sunny Coffs Harbour from his canary yellow converted Jeep Wrangler is a complete world away from his cold and bleak UK hometown. And he's loving it.
Complete with food grade stainless steel benches, fresh & waste water tanks, instant hot water system, fridges and LPG coffee machine, and powered by battery inverter, the Van Demons crew have created something very special for Chris, thus helping him create a wonderful new lifestyle.
And it's messages like these that make us love what we do so much more:
"Thanks to your amazing team, your lovely wife and of course to you Graeme. Top job, amazing engineering and I haven't stopped smiling since I got it." – Chris Yorke
Call us today if you'd like to convert your existing vehicle (we can even help you source a new one) into a coffee van.