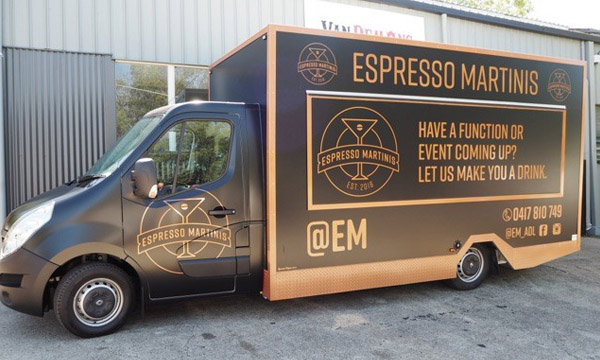 Now this was a fun truck to build. Maybe it was just the thought of what these guys were going to be producing that made it seem fun – espresso martinis – enough to bring a smile to anyone who is somewhat impartial to a good coffee and a wee tipple.
Sadly we are in Brisbane and this truck is now in Adelaide. Seems for now we'll have to order our espresso martini over a regular (and comparably boring!) bar.
This truck oozes class. With it's black and coffee colour wrap complementing it's interior with black aluminium composite panel walls, well lit American oak timber display shelving and timber look cabinetry, together with the slick stainless that features in all of our trucks, it's hard to believe that this bar is actually on wheels.
Bound to bring a touch of sophistication to any event, the Espresso Martini truck is yet another fabulous example of a Renault food truck – perfect for getting down closer to your customers.