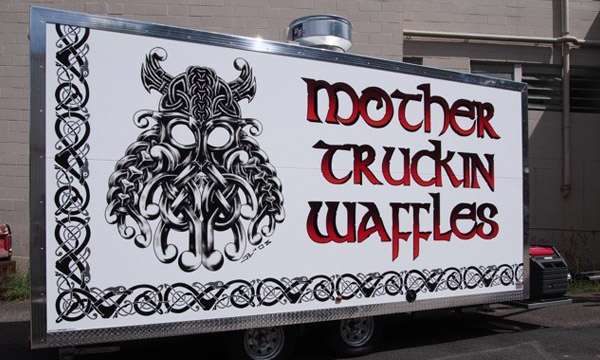 Paula first tracked down Van Demons Vans when she was still living in Ireland. She and her family had planned to emigrate to the Gold Coast and it had long been Paula's dream to start a food van. It wasn't long before she was living by the beach selling waffles out of her roaming 4.6m food trailer. Life doesn't get much sweeter!
After many emails and phone calls from Ireland, Paula finally made it to Oz and her food van dream was under way. It was some task for the Van Demons team tracking down all the items that Paula required to get her van on the road, and in addition to all the usual fridges, freezers and cooking equipment we managed to fit in a proofing cabinet, the biggest commercial dough mixer available on the market, an electric hot fudge dispenser, waffle irons and a cone maker. But boy does she look spectacular!
Wrapped in a wicked Gaelic inspired design, you'll find Mother Truckin' Waffles at markets, festivals and other events on the Gold Coast.