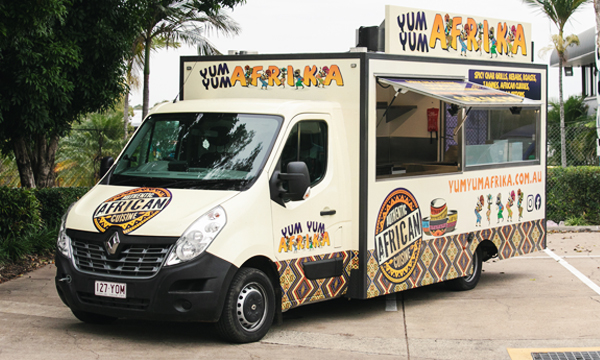 If you've never tried African food, do yourself a favour when events around town kick off again and track down Simone of Yum Yum Afrika, or better still, hire one of her food trucks for your next event to get the entire African experience.
Yes we say food trucks, plural. Simone is now the proud owner of a Renault Master food truck AND a 6m long fully fitted food trailer! Having previously owned a hugely successful African restaurant in the Sunshine Coast hinterland, Simone is now diving in head first into the food truck world.
Simone's intention is to spread the good word of her delicious homeland cuisine to the people of Brisbane. She intends to use the truck for festivals and events around town.
The Van Demons crew had the pleasure of trying Simone's food after she brought us in a variety of curries and kebabs to feast on. Boasting some incredibly unique and exotic spices, we can confirm that Yum Yum is a very apt name indeed for Simone's business.
If you like this food truck, check out the Yum Yum Afrika catering trailer here.
Follow their journey: